OUR APPROACH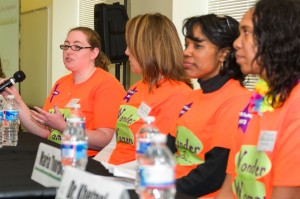 STEM-ING aims to accomplish our Mission by hosting an annual 1-day STEM event to inspire our student participants towards STEM. Activities are selected to maximize the exposure to various STEM fields.
Focusing our STEM event around fun, challenging hands-on workshops.
Through engagement in hands-on workshops, the girls will connect theory to practical applications of STEM in fun, interactive ways.  This will instill the sense that STEM is applicable and enjoyable and will help to break down the uncertainties and fears associated with pursuing higher-level Math and Sciences in their future studies.
Using female STEM role models to lead our workshops.
Through active one-on-one interaction with female STEM role models, the girls will build a positive perception, build the confidence, and desire to be like them.
Providing direct exposure to female STEM professionals in our community.
Fostering exposure to positive female STEM professionals that represent various STEM careers and academia will help the girls recognize various STEM opportunities and career paths available and will encourage our future female workforce to explore their own potential in any STEM career.
Hosting our STEM event on a college campus.
The college campus atmosphere will be different than what they experience in everyday school environment.  The college venue will give them a big picture point of view of campus life and classrooms that will foster a level of comfort in these girls about higher education institutions.