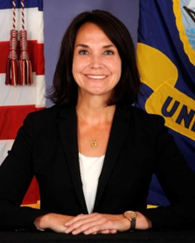 Debra Salamon
Executive Director, Naval Test Wing Atlantic
Ms. Salamon serves as the Naval Test Wing Atlantic Executive Director (NTWL ED). She is responsible for the efforts of over 4,000 flight test engineers, military test pilots and project officers, aircraft maintainers, acquisition professionals, and associated contractor support personnel performing flight test for the Naval Aviation Enterprise and other customers.
Leading up to her current role, Ms. Salamon served as Assistant Program Executive Officer (PEO) for Test and Evaluation (T&E), starting in PEO(Unmanned and Weapons) and then transitioning to PEO(Tactical Aircraft). She provided technical leadership and direction of T&E efforts for the PEO and ten program offices, and advocated for future test capabilities to meet mission need.
Prior to her role as APEO(T&E), she was the Lead Test Engineer of the CH-53K Integrated Test Team (ITT). She stood up the 50-person government portion of the ITT at Sikorsky's FL facility and led the team to a successful first flight of multiple aircraft resulting in over 100 hours of flight time in 8 months.
Her career started in NAVAIR's Engineering Scientist Development Program as an aeromechanics flight test engineer where she planned and executed dozens of tests on various helicopter platforms. She then served as Human Systems test lead for all NAVAIR aircraft, Assistant Program Manager for T&E (APMT&E) for the Antisubmarine Warfare Program Office (PMA264), and APMT&E for the H-60 Program Office (PMA299).
Ms. Salamon earned her bachelor of science degree in aerospace engineering from Penn State, master of science in engineering management from the Florida Institute of Technology, and completed the United States Navy Test Pilot School rotary wing long course. She has been a civil servant for over 20 years and completed the NAVAIR Leadership Development Program. She has received the Department of the Navy Meritorious Civil Servant Award.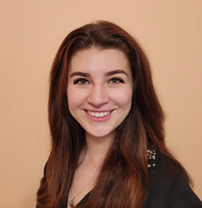 Skye DeStefano
Flight Test Engineer, Naval Test Wing Atlantic
Ms. DeStefano works as a Flight Test Engineer for NAVAIR and is currently the Propulsion and Subsystems Lead for E-XX. In her position with the E-XX team, she gets to help develop an aircraft from just an idea and determine requirements that will turn it into a physical aircraft and, eventually, she will fly onboard to test the aircraft and make sure it is ready to send out to the US Navy. 
Growing up in Chicago, she didn't have much idea of what she wanted to do as an adult. Her mom was a music teacher and her dad is a computer scientist. Her parents got divorced when she was about five years old, which brought her stepdad into the picture who is a businessman. While she has a passion for music and had always liked science and math, she couldn't see herself going down any of the same paths as her parents. Her stepdad introduced her to the world of aviation, taking her and her siblings to the Airventure Airshow in Oshkosh, WI every year since she was about eight. There she fell in love with planes and aviation, but still couldn't figure out how to make that a career unless she became a pilot. While that seemed cool and she loves flying, she still couldn't see herself doing that as a full-time job. Then along came the camp that changed it all: Women Soar You Soar. Like STEM-ing, this camp is aimed at young ladies and helping them see all of the opportunities that lie in wait for us out in the world. Women Soar was her first real introduction to STEM and all of the possibilities it holds. Her first year there, she was thirteen years old and had her very first mentor, an Aerospace Engineer for Boeing who worked on designing the 787 Dreamliner. That's when it all clicked for her – math, the science she was good at in school, and planes – she wanted to be an Aerospace Engineer.
So that's what she did. Going through high school she made sure she took as many courses as she could to give her the best chance of success in college. Growing up poor, she put herself through college since her parents couldn't help out, so she knew the best chance she had at getting into a good college was through academic scholarships. She was also on the dive team throughout high school, but was nowhere near talented enough to hope for a sports scholarship, nor did the schools she was looking at usually have a diving program anyway. So she worked hard, took as many AP classes as she could, and got the grades to get the scholarships she needed. She applied to thirteen schools her senior year…and got into all of them. In the end she chose the one that she could afford the best, she only applied to schools with certain academic statistics and facilities so she knew the quality of her education would be what she wanted and needed no matter where she ended up going.
She chose to attend Missouri University of Science and Technology (Missouri S&T) in Rolla, MO and earned her bachelor's degree in Aerospace Engineering in 2019. Thanks to her AP classes and scoring well on the exams, she was also able to complete her degree in three and a half years instead of four, having completed her "gen eds" through those AP classes. She also joined two service sororities, Delta Omicron Lambda and Lambda Sigma Pi, where she got to help the community and make some of the best friends she still has to this day, all more amazing women in STEM. Throughout college, her love of aerospace and engineering was strengthened, being surrounded by other people whose passions aligned with hers was not something she had the opportunity to grow up with. Her courses also taught her all the different paths there are available even within one degree, and she learned that she didn't want to do what she thought she did with her degree. She used to want to go into design, like her mentor from Women Soar, but she really sucked at using the software needed for that and coding, and she can't stand to be behind a desk for too long. But then she found out about propulsion and flight test, available in the commercial aviation world and military, where she'd get to be hands-on with the aircraft that she loves and get to solve problems every day. She made sure her internships strengthened the skills she'd need in her career, working at Pratt & Whitney in Columbus, GA in their engine shop and facility, one of the only ones like it in the world. She interviewed with NAVAIR her senior year and moved out to Southern Maryland to start work in August of 2019.
In her time here, she's worked on multiple teams as a flight test engineer, designing and executing test of developmental Naval aircraft and new additions to current fleet aircraft. While she currently works on E-XX, she's also worked on the:
P-8A Poseidon – testing aerial refueling with new aircraft pairings, electrical updates for new mission capabilities, Wideband SATCOM (new communications capabilities from the aircraft to satellites) and Long-Range Anti-Ship Missile (a new weapon for the aircraft to carry and use)
C-38 – turning a civilian and commercial aircraft into a test and Naval Aircraft to use like a flying control room
GE T408 engine – this is the engine for the CH-53K helicopter, it had been having issues flying through very sandy places when the sand would get sucked into the engine so they took one and put it on a stand and purposefully put more sand into it to see where it's breaking point is
In addition to her day-to-day engineering work, she is also extremely passionate about they developmental employee community. She is currently the President of the Professional Development Council at PAX (kind of like Student Council President but for employees on base with 0-5 years of experience). As President, she gets to work closely with leadership across base at all levels to expand the opportunities at NAVAIR for the developmental community. She is also in charge of organizing and hosting the NAVAIR Symposium for Emerging Professionals, where developmental employees from four different NAVAIR locations join to present the amazing projects they've worked on in the last year.
Outside of work, Ms. DeStefano still loves helping her community and spend a lot of time outdoors hiking or supporting local farms. She also has lots of pets and is passionate about helping shelters and rescues, she also likes to go horseback riding when she can find the time. She will also be a mom for the first time this fall, so she is sure her passions will evolve to include even more extracurriculars as time goes on. She is always eager to continue learning and growing, and urges everyone to do the same!

Wonder Women


Kenisha Pope
Chief of Staff to VP of Pre-Sales, Cloudflare Inc.
Ms. Pope, a highly accomplished individual who has served as a Chief of Staff for several notable companies and organizations.  With her extensive background in leadership and management, she has become a well-respected authority in her field.  With over 15 years of experience, she is a performance-driven manager with proven success exceeding expectations in the Media, Communications & Technology, Retail, Health Insurance, Medical Devices, Non-Profit, and Biotech sectors for the past decade.  Her most notable positions were held at Cloudflare, Inc., the non-profit organization More Than A Vote, Inc., and the consulting companies Accenture & PricewaterhouseCoopers.
Throughout her career, Ms. Pope has demonstrated exceptional skills in strategic planning, team building, and problem solving. She has a unique ability to analyze complex situations and develop innovative solutions that drive growth and success. Ms. Pope is widely regarded as a thought leader and problem solver/fixer, sharing her insights and expertise with audiences across the globe.
In addition to her professional work, Ms. Pope is a prior National and Regional advisor for the National Society of Black Engineers (NSBE) and proud member of Delta Sigma Theta Sorority, Inc. She is passionate about encouraging the younger generation (specifically young Black females) to explore opportunities in the STEM field and mentoring people on their professional development desires. She holds a Bachelor's Degree in Electrical Engineering from Virginia State University and continues to stay up-to-date with the latest developments in the world of technology.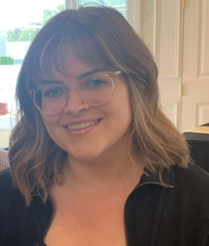 Jennica Bark
Chemist
When Ms. Bark first started college, she had no clue what she wanted to study. She did not feel confident enough to pursue a STEM degree after always being the last one to understand something in school. She decided on pursuing a Criminal Science program in Baltimore but it required upper-level chemistry courses for admittance. The joke was on her because she realized she was becoming more interested in chemistry as she progressed. She promptly switched to a full-time chemistry major after realizing she had found something she was truly passionate about in school. As she looks back, she sees that her lack of confidence when she was younger dictated her passion and interest in pursuing STEM opportunities. 
Ms. Bark earned her Chemistry major and Materials Science minor at St. Mary's College of Maryland in St. Mary's County in 2020. She focused heavily on the research and application of mechanically sensitive dyes (color changing materials when they stretch/compress). She was also the President of the American Chemical Society Chapter and was a lecture/lab tutor for most of her time in college. To her surprise, she was awarded for Inorganic Chemistry Excellence through the American Chemical Society and received the departmental Robert E. Goldsmith award for her service/involvement.
Ms. Bark works as a Chemist in the Materials Engineering Division at Patuxent River Naval Air Station. She began her career straight out of college in 2020. Her work focuses on aircraft coating protection (think of it as making sure the paint stays on, just like a car/house). Her job is unlike anything she learned in school and that is something that took her awhile to get used to. As a chemistry major, she and her classmates learned all about molecular behavior and how to perform reactions (there was not a chapter on painting aircraft). She now thinks of college degrees as a way of "obtaining a tool kit". Once you have your tools, the next step is to apply them to your job as you best see fit. You may have some tools that get a little rusty if they aren't used often but they will still be there if you ever need to use them!
In her free time, Ms. Bark enjoys hanging out with her two pups and exploring outdoors. She serves as a mentor for students at St. Mary's and hopes to maintain an active role in helping those who don't feel confident or comfortable as they progress into STEM-related fields.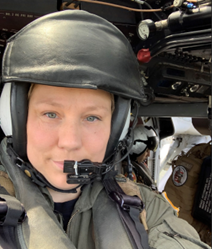 CDR Gretchen Wendt
Deputy Program Manager, NAVAIR
Commander Gretchen "Sota" Wendt, was born in Hayward, WI.  She is a 2005 graduate of Purdue University, where she earned an Aerospace Engineering degree.  She also holds a Master's degree in Global Leadership from the University of San Diego, and previously served as an Operations Department Head for Helicopter Sea Combat Squadron TWO ONE (HSC-21) The "Blackjacks," in San Diego, California.  CDR Wendt completed her first flying tour with Helicopter Anti-submarine Squadron FIVE (HS-5), NAS Jacksonville, FL, where she executed two operational deployments to 5th and 7th Fleet in support of Operation ENDURING FREEDOM.  Most importantly, she was the first female officer to serve in HS-5, which was established on 3 January, 1956.  Recently finishing her tour at the Pentagon as the Aircrew Systems and Chem-Bio Requirements Officer, she is now assigned as the Direct Strike Deputy Program Manager for PMA-242.
CDR Wendt's shore tours include HSC Weapons School, Pacific as a Weapons and Tactics Instructor and Carrier Air Wing Three (CVW-3) as Helicopter Element Logistics Officer, completing one operational deployment to 5th and 7th Fleet in support of Operation INHERENT RESOLVE.
CDR Wendt has accumulated over 2,000 flight hours in the H-60 helicopter. Her personal awards include the Meritorious Service Medal, multiple Navy Commendation and Achievement Medals and various campaign, unit, and service medals.
A personal goal of CDR Wendt is to continue to serve the Warfighter by streamlining the acquisition of innovative technologies. In her spare time, she enjoys camping, going to the beach, and spending time with her two beautiful children and pets.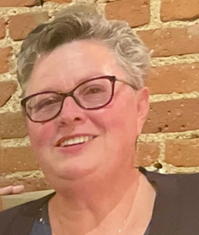 Lisa Horton
Master Gardener
Ms. Horton attended the University of Delaware originally expecting to pursue a career in marine biology.  Her undergraduate degrees are in Chemistry and Biology.  She worked in the Department of Entomology, in the College of Agriculture where she was a lab manager and worked on projects related to inducible plant defenses, maternal instincts in insects, as well as many others.  She also worked for the Cooperative Extension Agency, helping farmers with various issues that they faced.  At times, she provided instruction to farmers who needed to get certification in order to apply certain pesticides.  At the time many pesticides which had been used for years or decades were becoming more regulated and math skills along with literacy skills were needed to pass those tests.  While working in the Department of Entomology she was able to learn a great deal about growing plants, reducing pests, and working with computers to analyze data.  
Ms. Horton left the University and took a job with an inventory company where she was able to make use of her experience with computers. Soon after she bought her first house where she promptly dug up almost the entire yard and planted nearly every inch of it. Fruit trees and vegetables as well as decorative plants filled her back yard and she raised herbs in pots on her patio. After several mistakes she took a few gardening classes and joined a local gardening club to help with her planting decisions and learned how to make better choices in her plant purchases as well as better options for the care of her plants.
She moved to Maryland several years later and started working as a paralegal for a law firm in Washington DC. Her work schedule is frenetic but she finds gardening to be a calming experience. Her gardening experience in Delaware gave her a good start for gardening in Maryland but the soil and sun exposure were very different so she once again sought out some help. The Maryland Cooperative Extension Service was an excellent resource for her, as was her neighbor who happened to be a Master Gardener. Master Gardener Programs are presented in every county and provide the opportunity to speak with experts and to enrich your gardening experience. The Master Gardener Program offered by the University of Maryland, like those offered in other states, not only provides outstanding education and hands on opportunities but also trains volunteers to be able to educate others. These two components of the Master Gardener Program appeal to her – to learn something herself and to teach others what she learns. Master Gardeners are required to volunteer in the community after completing their program as well as to take continuing learning classes each year. She travels quite a lot with her work schedule and was unable to participate in the Master Gardener Program while living in Maryland but she certainly took advantage of their community classes.
Ms. Horton now live in Pennsylvania where the University of Pennsylvania also offers a Master Gardener Program. She's still travelling too much for her job but she has been able to work with a Master Gardener to assist with her community programs. She was able to provide assistance with the landscaping at a church, an animal shelter, and two county parks. This experience will assist her in completing her Master Gardener certification which she expects to do in 2024.
While all of this gardening has been an interesting and rewarding avocation, it has provided useful experience as well. Her excess vegetables are donated to a local food bank, providing another opportunity to help with the community. And her work as a paralegal has included several cases related to large agricultural businesses. Her exposure to agriculture has helped her to understand her client's business better which in turn has helped her attorney team to understand issues related to their cases.
Pursuing certification as a Master Gardener opens many doors and in many ways that you probably haven't considered. It provides a lifelong learning opportunity that also gives back to your community.