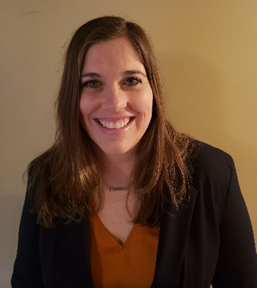 Ms. Kacie Fleck (kacie.fleck@navy.mil)
Growing up in Indiana, I was fortunate to have many female role models that had careers in STEM fields.  Most notable was my grandmother who designed engine piston rings for Perfect Circle.  She was always clipping newspaper articles of NASA's latest accomplishment for me to read, in particular the Hubble Space Telescope, that certainly kept me looking beyond the corn fields of the Midwest to realize other incredible opportunities that were available.  In school I absolutely loved Math, by far my favorite subject, and enjoyed (tolerated sometimes?) my Science classes which had me convinced I wanted to continue to pursue a STEM related field after high school.
Following high school, I enrolled at Purdue University in their freshman engineering program unsure what specific discipline I wanted to pursue.  Through consulting current engineering students (and newly made friends) I chose to focus on Aerospace Engineering.  I loved that it was considerably smaller than other disciplines which meant much more focused time with professors and teaching assistants. Another influencing factor was Purdue's rich history as part of American aviation and the space program.  Amelia Earhart (one of my personal favorites) had been an advisor there as well as space program pioneers Gus Grissom and Neil Armstrong.  Engineering is known to not be the easiest of college majors and one standard freshman engineering challenge was "Look to your left and look to your right, at least one of you won't graduate with an engineering degree.".  Personally I took that as a challenge to ensure my friends and I would work together to achieve that degree.  Setting up study groups and time to work homework assignments together with classmates let us all learn from each other and help one another to achieve our goals.  And become great, lifelong friends in the process.
After graduating from Purdue with my Bachelors in Aerospace Engineering I began working for The Boeing Company in Everett, WA.  I was thrilled to be able to work in their Product Development division evaluating performance of possible future commercial airliners.  Unfortunately following the attacks of 9/11 that crippled the commercial airline industry for a time and Boeing losing the JSF contract, Boeing was laying off instead of hiring new engineers.  My then fiancé (now husband!) was just graduating from Purdue himself and had found a job opportunity at NAVAIR in southern Maryland.  I was soon to follow and haven't looked back since.  The support NAVAIR gives to Sailors and Marines, keeping them safe and effective to achieve their mission, is definitely the driving force behind my motivation for working at NAVAIR.  I started in the Rotary Wing Aeromechanics Test Branch (that is evaluating the Flying Qualities, Performance, and Loads/Structures of helicopters) where I supported the H-1 Upgrades program during its initial and follow-on developmental testing, Presidential Helicopter (VH-71A) during its short developmental phase, as well as the H-60 and H-53 platforms.  I have since moved onto the Test & Evaluation Program Leadership Division where I have been an Assistant Program Manager for Test & Evaluation for multiple programs to include the SPN-50 RADAR to support Air Traffic Control on the current aircraft carriers as well as the H-60 and H-1 helicopter platforms.  Currently, I am the Test & Evaluation lead for the V-22 platform at the program office.  In this role I lead the V-22 test team ensuring the team is properly resourced to perform needed testing and prioritized to meet the most pressing fleet needs for new capabilities.  It's fun and challenging for sure – and a learning experience daily.
Trying to maintain a healthy work life balance is always a challenge and even more so over the last year.  Like most everything else, my husband and I approach our family as a team effort.  We have four fun active children, a dog, and a bunny that keep us on our toes!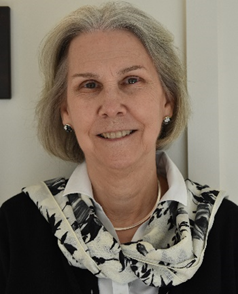 Dr. Julia King (jking@smcm.edu)
Julia A. King is an archaeologist, professor of anthropology, and chair of the Department of Anthropology at St. Mary's College of Maryland, where she researches, writes about, and teaches Chesapeake and Atlantic World history. King received her B.A. from the College of William and Mary, her M.A. from the Florida State University, and her Ph.D. from the University of Pennsylvania. She has an extensive list of publications in peer-reviewed journals and her book, Archaeology, Narrative, and the Politics of the Past (2012) won a Book Award from the American Association of State and Local History. King is a past president of the Society for Historical Archaeology, an international organization committed to the improvement of archaeological practice throughout the world. King has held fellowships at the Virginia Historical Society, the Omohundro Institute of Early American History and Culture, the Henry Francis duPont Winterthur Museum, and Dumbarton Oaks. In 2003, King was appointed by President George W. Bush to the Advisory Council on Historic Preservation, a Federal body advising the president and the congress on matters of national historic preservation policy. King was the first archaeologist appointed to the Council in its nearly 50-year history. In 2018, she was recognized by the Society for Historical Archaeology with its J.C, Harrington Award in recognition of her scholarship and intellectual contributions to the field of historical archaeology. King was one of the youngest recipients of the Harrington Award.
 Ms. Hanna Dennis, PA-C, MPAS
(hannadennis@gmail.com)
My interest in medicine started when I volunteered for 6 months at a children's home in Mexico prior to starting college. At the time, I had no idea what I wanted to do with my future. Immediately after I arrived, a doctor who volunteered his time came to treat one of the kids who had an abscess on his arm. I suddenly found myself responsible for caring for this boy's wound and administering his medication. Through that experience, I realized how much I enjoyed taking care of people. In the remainder of my time there, I was impacted by the need for medical care and health education in disadvantaged populations.
After deciding I wanted to pursue a career in medicine, I was faced with choosing which path to take. I wanted a career that put me in a position to help manage people's health, but didn't want to spend many years in school. When reviewing my options, the position of Physician Assistant stood out to me. I would have the autonomy for medical decision making, but more flexibility with what type of position I could hold.
Since finishing my PA education, I have worked in primary care settings that have provided care to underserved populations. I enjoy educating patients to be more knowledgeable in managing their own health where they would otherwise not have access to reliable information or have the benefit of a good support system.  Practicing in an underserved area, I frequently encounter patients who make poor health decisions based on lack of understanding and misinformation. I am most rewarded in my role as a healthcare provider when I am able to earn the trust of my patients and motivate them to pursue healthy lifestyles and make well informed medical decisions.
I also love the practical application of research backed evidence based medicine in real life encounters. What I do every day involves critical thinking and problem solving. It requires me to look at a problem presented to me, listen carefully to the information provided, and ask probing questions. It involves identifying risks, determining most concerning findings, and developing a plan for further exploration. Then the information acquired must be interpreted and relayed to my patients in an understandable way so that they are able to make informed decisions.
One of the challenges I have faced, especially during the time I served a majority Spanish-speaking population, is being a woman in a traditionally male role. I have found that I often need to put forth extra effort in gaining respect for my education and knowledge base. However, in working to overcome this, it has led to the development of more solid, trusting relationships with my patients. Because of this additional investment in support of my patients, I find that I see better outcomes in their health.
My advice for those interested in a STEM career is to experience it. Whatever it is that you are interested in or think you want to do, find an expert in this area and shadow. Get a front row seat to what the day to day workings of that field look like. This is the best way to see if it is an area you want to pursue long term.
Ms. Audrey Keller (audrekeller@gmail.com)
I work as a Flight Test Engineer for NAVAIR on the CH-53K (think: brand new, really big helicopter) test team AND as a competitive dance instructor/choreographer at Gracie's Guys and Gals Dance Studio in Hollywood, MD.
I earned my degree in Mechanical Engineering at the University of Pennsylvania in Philadelphia, PA. When I wasn't in class or studying, I was heavily involved in several extracurricular activities – most of which involved dance and performing arts! I was the Artistic Director of Arts House Dance Company, the Vice President of Soundworks Tap Dance Company, and the Marketing Director of a Performing Arts Senior Society. I was also a member of Chi Omega Sorority. While I continue to use the engineering knowledge I learned in my classes, some of my most valuable skills (e.g., communication, leadership, interpersonal relations, etc.) came from my experiences with these other organizations.
I started working for NAVAIR as a Flight Test Engineer in 2015. An engineer is someone who takes concepts from math and science, and uses ingenuity and creativity to turn them into something practical. As a Flight Test Engineer, I get to design and execute test of developmental Naval aircraft (think: kind of like the person in those mission control room from those astronaut/space movies, but for airplanes and helicopters). Some cool things I've gotten to work on include:
P-8A "Special Mission Configuration" – I supported a large test program where we strapped a giant, top secret pod to the bottom of a militarized 737 (think: modified commercial airliner).
E-2D Aerial Refueling – I got to be the Team Lead for a program where our plane refueled from another plane while they were both flying – for the first time!
MQ-8 Fire Scout – I got to work as a Systems Engineer (think: cat herder of all the different types of engineers) for a pretty big drone.
CH-53K King Stallion – My current position is serving as the Deputy Air Vehicle Lead on the CH-53K Test Team. We are testing a brand-new aircraft, and are close to being able to deliver this capability to our Marines!
Most importantly, I get to be excited to go to work every day to solve interesting problems, interact with some of the coolest coworkers and teammates, and feel proud of what I do.
In addition to my day-to-day engineering work, I am also extremely passionate about employee professional development. In 2018, I was the President of NAVAIR's Professional Development Council (kind of like a Student Council President for all of the 0–5-year employees on base). In this role, I got to work with so many inspiring young leaders, organize and host a Technical Symposium, and advocate on behalf of my peers to senior NAVAIR leadership.
Outside of my day job, I've continued my passion for dance as a teacher and choreographer at Gracie's Guys and Gals, where I teach tap, jazz, contemporary, and technique to kids ages 7 – 18.
In addition to the passions that have turned into careers (i.e., engineering and dance), I am in love with adventure and being outdoors. On any given weekend, you can probably find me hiking, backpacking, skiing, kayaking, mountain climbing, or rock climbing with friends and family. I also dabble in fine art.
As I progress in my engineering career, I hope to be able to continue doing what I love both in and out of the office, and to grow into a position where I can more directly influence positive organizational change.

Keynote Speaker
Ms. Cam Donohue (cam.donohue@navy.mil)
Cam is the Technical Director of the Air Test and Evaluation Squadron Two- Three (VX-23) at NAWC-AD. She earned a BS in Aeronautical Engineering from California Polytechnic University with affiliation to the National Aerospace Engineering Honor Society, Sigma Gama Tau. She was competitively selected to attend United States Navy Test Pilot School where she completed the Airborne Systems Curriculum and graduated Class 132.  She completed the United States Naval War College Fleet Seminar Program and received a Master's in National Security and Strategic Studies with highest academic distinction. Cam completed the NAVAIR Leadership Development Program in 2017.
Cam's passion for STEM was seeded during her participation of the national Expand Your Horizons (EYH) workshops that she attended as an 8th grade student. She was able to use that passion to lead a number of workshops with the China Lake EYH chapter when she was working as a propulsion engineer at China Lake, CA. She moved to Southern Maryland and wanted to inspire the local girls and she started leading the 1st EYH chapter in SoMD, which resulted in founding STEM-ING, an independent organization with similar goals.
In addition to STEM outreach, Cam is involved with the local Habitat for Humanity, St. Mary's County soup kitchen, and served as the Events Coordinator for a local non-profit organization focused on improving the lives of low-income families and single parents in dire situations.
Cam enjoys traveling, photography, and anything active, including: snowboarding, rock climbing, surfing, backpacking, and obstacle course racing.