STEM-ING 2021
Going Virtual!
Don't forget to save the Date!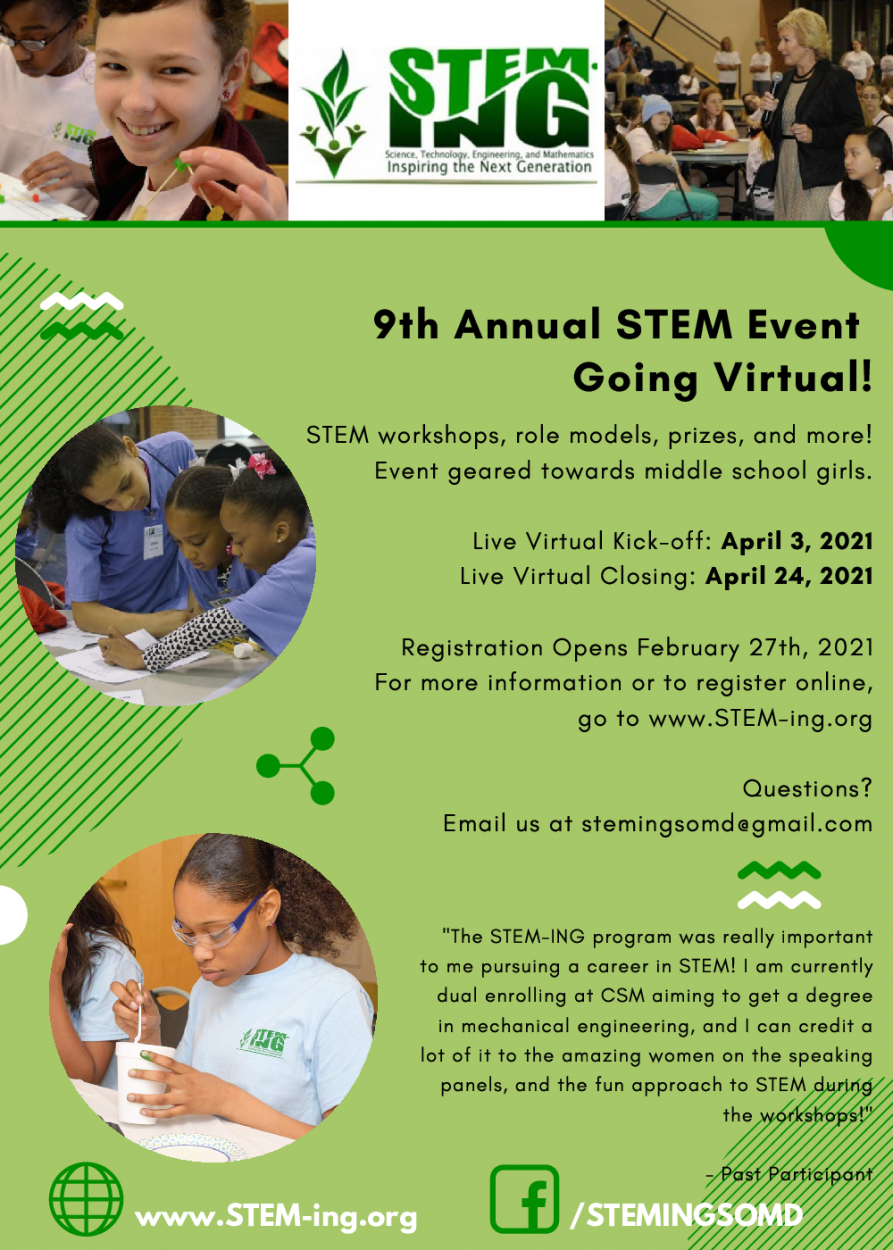 Students Register Here
Volunteers Register Here
---
2021 Virtual STEM-ING Event
This year's event is going virtual, consists of 3 parts below, and is FREE! Registration is still required (1 registration per student).
LIVE Kick off: April 3, 2021, 1:00PM
The kick-off will feature a live demonstration by the University of Maryland Chesapeake Biology Lab, an inspiring STEM talk by our Keynote Speaker and information regarding the at-home workshops.
The event will be streamed live and the link will be provided to students that register.
At-home STEM Workshops:
During registration, you can register for up to 4 workshops total (up to 2 with workshop kits and up to 2 without workshop kits)!
If you register by March 15th, workshop kits, a cinch bag with STEM goodies and a T-shirt will be available for pick-up (all FREE).
All registrants will receive a link to virtual classrooms with pre-recorded workshop demonstrations, instructions and Q&A opportunities with the workshop leads.
All workshops are to be completed by April 22nd and results shared with workshop leads!
LIVE STEM-ING Final event:
April 24, 2021: 1:00PM
The final event will feature live prize drawings, at-home workshop wrap-ups, fun STEM information and final Q&A sessions with STEM-ING!
The event will be streamed live and the link will be provided to those that register.
---
Workshop kit pickup location and times.
Mar 27th from 1300 to 1500 (1-3PM) – Calvert Library – 850 Costley Way Prince Frederick MD 20678
Mar 29th from 1600 to 1800 (4-6PM)- Lexington Park Library – 21677 Franklin Delano Roosevelt Blvd Lexington Park MD 20653
April 1st from 1730 to 1900 (5:30-7PM) – La Plata Library – 2 Garrett Ave La Plata MD 20646
April 2nd from 1600 to 1800 (4-6PM) – Leonardtown Library – 23630 Hayden Farm LN Leonardtown MD 20650