STEM Wonder Women 2017



Each year we have a few STEM women from the community attend our STEM-ING event as our Wonder Women!  These women have excelled in areas of STEM and share their experiences, struggles, accomplishments, and inspiration with the girls that attend our STEM Events each year.  This year we had a wonderful group of women attend as our Wonder Women!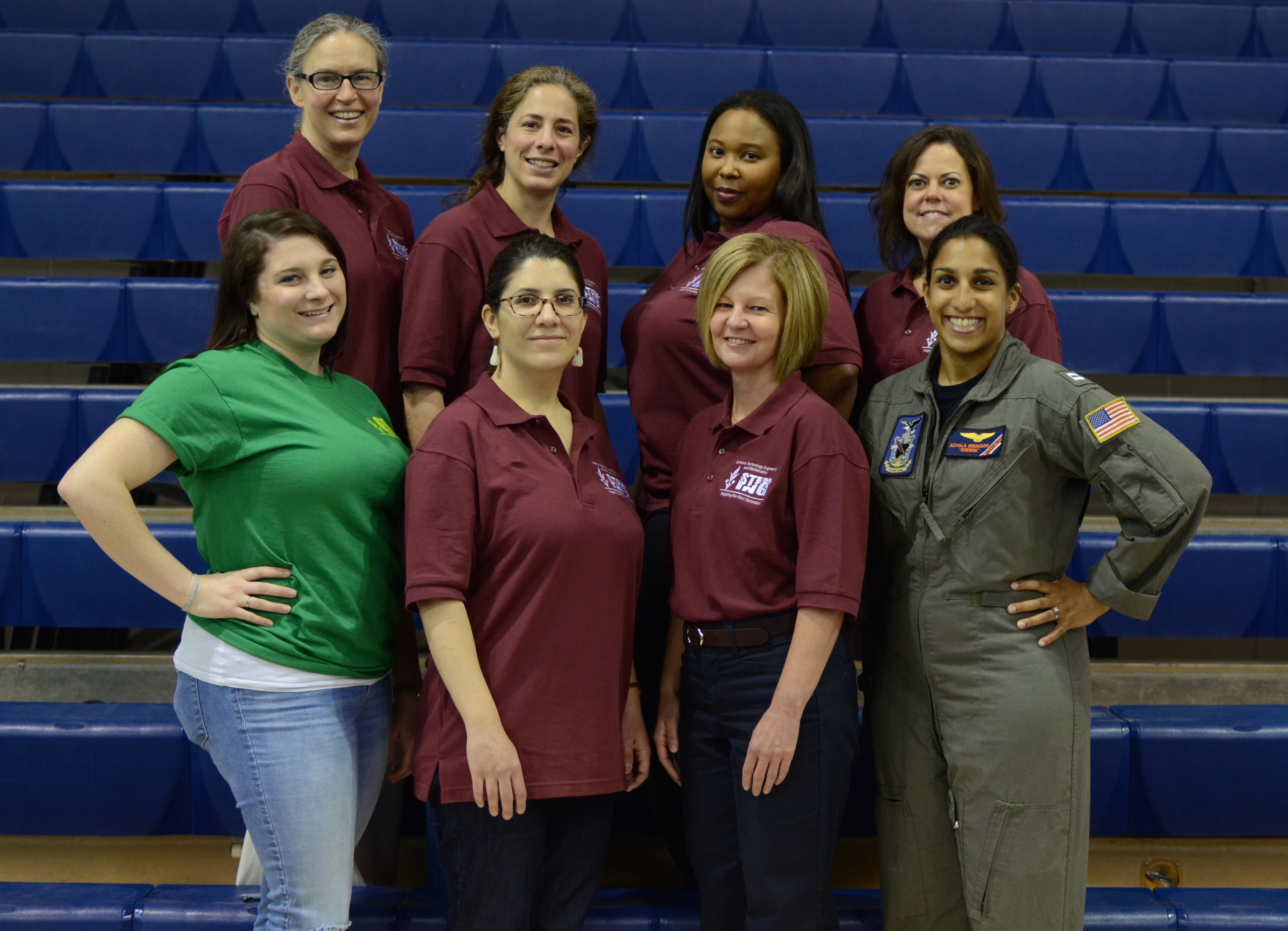 2017 Wonder Women Bios:

Christie Agamaite
Ms. Agamaite currently serves as the Director of the Core Avionics Engineering Division. She serves as the senior civilian responsible for planning, directing and controlling all activities of the division, including the technical management and assignments of approximately 100 avionics engineers across 20 different programs in different acquisition phases ranging from concept formulation through production, and for engineering support during service use. She serves as a senior technical advisor to numerous aircraft platforms for avionics issues and serves as a board member on System Engineering Technical Reviews for various programs.
Ms. Agamaite began her professional career in 2000 with a short stint as a satellite engineer for Honeywell. In 2001, she joined ManTech International Corporation as system safety engineer supporting the F/A-18 program. In 2003, Ms. Agamaite joined NAVAIR as a reliability engineer, also supporting the F/A-18 program.
In 2006, Ms. Agamaite was selected as the Reliability and Maintainability (R&M) National Team Lead for the E-2/C-2 program. She provided team leadership and was responsible for planning, resourcing, and execution of an effective R&M Engineering program for all PMA-231 programs.
Ms. Agamaite joined the Core Avionics Division in 2008 as a Section Head and worked her way up to Branch Head and eventually Division Director in April of 2015. Over those seven years, in addition to supervisory duties and running the organization under her purview, Ms. Agamaite was also the Lead Engineer for an F/A-18 ACAT III program from 2008 through 2012.   The program execution received high accolades and she received the F/A-18 Program Manager Award for her efforts.
Ms. Agamaite served as the Avionics, Sensors, and E*Warfare Department's Developmental Programs Lead (Z-code) for a one year collateral duty assignment, concluding in February 2017. She was instrumental in setting department policy, training supervisors, and providing guidance to developmental engineers.

LT Achala Dennison
Lieutenant Achala "Shewok" Dennison officially began her STEM adventure during Ms. Schroeder's 4th Grade astronomy unit. At that moment, she decided she wanted to be an astronaut. Since then, she's had an irrevocable habit of looking up at the stars, which has led to symptoms of chronic neck pain.
Achala attended the California Academy of Mathematics and Science; a STEM focused charter high school on the California State University, Dominguez Hills campus. In high school, she was exposed to robotics, coding, and a great deal of math. Her volunteer work with the Cabrillo Marine Aquarium also providing another opportunity to go beyond asking "Why?" to executing scientific experiments that tested various effects of storm drain run-off on fragile salt marsh ecosystems.
Upon graduation in 2004, Achala attended the U.S. Naval Academy where she majored in Aerospace Engineering with an emphasis on Astronautical Engineering. As part of her capstone design project, Achala led a team of six in the preliminary design and test of an amateur satellite design to track environmental data from deployed buoys. She also was involved with the development of special instrumentation for Fresnel lens calibration while she interned at NASA Goddard Space Center. Her educational experience honed her programing skills, engineering reasoning, and leadership skills. Achala graduated in 2008 with a B.S. in Aerospace Engineering.
Achala continued in her naval flight career to earn her Wings of Gold in March 2011 from VAW-120 and deployed with the VAW-117 Wallbangers in support of Operation Enduring Freedom and Syrian Contingency Operations in 2013. As an E2-C Hawkeye Naval Flight Officer, she was heavily involved with the test, evaluation, and operational use of several communication and satellite networking systems. These systems expanded the amount of information available to warfare commanders for critical decision making. While the test and operational use of the systems were key components of her experience, Achala considers the leadership opportunities provided in her deployment to be most influential on her personal growth.
Achala earned her M.B.A. from Saint Leo University in March of 2016. She began the U.S. Naval Test Pilot School curriculum in June of 2016 as a member of Class 151. She will graduate on June 16, 2017 and begin a test and acquisition tour at VX-20. As a Test Naval Flight Officer, Achala will evaluate the performance of the E2-D Hawkeye's mission and weapons systems.
Achala is married to Lieutenant Michael "McDirt" Dennison. They have two children- their son, Ramitha, age 2, and their pup, Ruckus, age 2. In her spare time (when she has it), Achala likes to run long distances, hike, shoot, play street hockey with her family, and read.

Jackie Dvorak
Ms. Dvorak built her engineering career while balancing work, school, and motherhood. In 1994, she graduated from the College of Southern MD with an Associates of Arts Degree in General Engineering. She earned this degree while working part-time as an Engineering Technician at the Calvert Cliffs Nuclear Power Plant. In 1999, she enrolled in the Johns Hopkins Part-Time Engineering to pursue a Bachelor of Science Degree. Ms. Dvorak stood out from her peers. Her knowledge, intellect, and leadership were recognized by Johns Hopkins faculty and staff and she was the first recipient of the Robert C. Scharf Scholarship for part-time engineering students. She completed a Bachelor of Science Degree in Engineering Science in May 2003 and began her distinguished Government Service as a flight test engineer serving multiple test programs.
In 2007, she was selected to attend the U.S. Navy Test Pilot School (USNTPS). During her time at USNTPS, she flew in 12 aircraft types and accumulated over 100 flight hours. She conducted evaluations on various avionics systems including cockpit displays, radar systems, Forward Looking Infrared (FLIR) systems, and navigation systems as well as system integration. Her next assignment was on the E-2D Integrated Test Team (ITT) where she tested the onboard interrogator and transponder and Traffic Alert and Collision Avoidance System (TCAS) as well as many other systems. Her next assignment was in PMA213 where she was the Mode 5 Lead Test Engineer (LTE) and responsible for all Identification Friend or Foe (IFF) test and evaluation activities including Navy's ship board interrogator testing and aircraft transponder and integration testing. In 2012, she was assigned as the P-8A Lead Assistant Program Manager for Test and Evaluation (APMT&E) for PMA290. She excelled in this billet where she developed budgets and resource requirements that supported acquisition strategies for multiple P-8A test programs. She participated in process improvement efforts and worked tirelessly to eliminate waste in her test programs.
She is now assigned as the Next Generation Jammer Assistant Program Manager for Test and Evaluation (APMT&E) for PMA 234 where she is actively leading and maturing the Next Generation Jammer Test Team. If these duties were not taxing enough, she makes time to mentor other Engineers and personnel who are in leadership development programs.

Maribeth Boeke Ganzell
Maribeth Boeke Ganzell is a Certified Athletic Trainer who has worked for the past 12 years in the Sports Medicine department at St. Mary's College of Maryland.  She is licensed in the state of Maryland and a member of the National Athletic Trainers Association.
Maribeth has been helping people heal for the past 25 years in a variety of settings.  After graduating from the Sports Medicine program at Central Michigan University, she took her first position at Pennock Hospital in Michigan, treating patients and providing sports medicine services for the athletes at five local high schools.  Later she became the Clinic Director at Pace Physical Therapy in Houston, TX.  Wanting to return to working with young people, Maribeth became the Head Athletic Trainer at Spring High School in Texas and then at Chino Hills High School in Southern California.  While working in high school settings, Maribeth developed new student athletic trainer programs.  These programs taught sports medicine to high school students and allowed them to learn the skills to work with the athletes at their schools.
She has had the opportunity to provide medical coverage and care at some amazing events including the US Junior Diving championships, the US Women's Softball pre-olympic games and professional tennis matches.  She was the Medical Director of the World Ultimate Frisbee Championships in Hawaii, directing a team of doctors, nurses and athletic trainers to help over 3000 athletes.
Recently, while living in West Africa, Maribeth was able to provide her medical services at Edward Francis Small Teaching Hospital in the capitol city of Banjul, The Gambia.  She was a member of the physical therapy department, teaching orthopedic therapy and treating patients in the hospital and clinic. This had been her most challenging position yet. It was not the challenge of treating the very serious cases that came in, but having to do it without modern equipment and facilities.  Those that worked in the clinic taught her how to do a lot with very little.  Through her connections at the hospital Maribeth also became the Athletic Trainer for a professional soccer team, the Young Africans.
Her work inspiration is twofold—a desire to help others and to teach.  For Maribeth there is nothing more rewarding than working with a patient with a very serious injury, spending many hours helping the patient heal and then to see them accomplish their goals, whether it is
walking across the room or scoring the winning goal at a championship game.  Sharing her knowledge is Maribeth's other motivational force.  She loves to teach others the science of sports medicine, inspiring them to start up careers of their own.
Maribeth enjoys volunteering her free time as manager for her Destination Imagination Team.  Working with a creative and talented group of girls for the past five years has been very rewarding. One of her favorite days was recently when the team was working on three different projects at the same time that involved using dry ice, electromagnets and gear/pulley systems to help solve their challenge.  Maribeth's passions also include working as a batik artist, photography, travel, hiking and doing anything outdoors.

Hillary Lane Glandon
Hillary is a PhD candidate at the University of Maryland Center for Environmental Science Chesapeake Biological Laboratory (CBL) in Solomons, Maryland. Her dissertation research focuses on the impact of climate change on the physiology of juvenile blue crabs in the Chesapeake Bay. Hillary has a bachelor's of science in Biology from Emory University and a master's of science in Marine Biology from the University of North Carolina Wilmington. Her master's thesis research was on the variation in lipid content and fatty acid composition of Atlantic herring from the Bay of Fundy, Canada. After completing her master's degree, Hillary was the lab manager for the University of Maryland oyster restoration lab. She helped manage over 20 years of oyster population data and conducted field surveys to assess habitat suitability and growth for newly restored oyster areas.
Hillary's current research aims to understand the impact of a changing climate on a keystone species in the Chesapeake Bay, the blue crab. Blue crabs are critical to the Chesapeake Bay ecosystem, serving as predators to oysters and clams, prey for large fish, and shaping system as scavengers. Blue crabs are not only ecologically important, but also economically valuable in the mid-Atlantic region. Due to their importance in the region, understanding the possible impacts of large scale climate shifts on a species such as the blue crab can help predict ecosystem level responses to climate change. In order to quantify the physiological impact of climate stressors on blue crabs, Hillary created an experimental system at CBL that manipulated the temperature and acidity of the water. Blue crabs were kept in this system for about 1 month and various parameters were measured including, growth, shell properties, and metabolism. Hillary is finishing the data analysis of the experiment now and hopes to use the data in an environmental model to predict changes in adult crab behavior as a result of a changing climate.
Hillary is originally from the Chicagoland area and maintains here allegiance to Chicago sports, especially the World Series champion Chicago Cubs. Hillary currently lives in Great Mills, Maryland with her husband, 9 month old daughter, and their dog, Spaghetti. They enjoy taking advantage of the natural beauty of southern Maryland in their free time by visiting various parks in the area to hike or canoe. Hillary and her family travel whenever they can and are hoping to live abroad when Hillary is conducting post-doctoral research.

Aja Green

*KeyNote Speaker 
Aja is a project manager at the Patuxent Environmental Aquatic Research Laboratory's (PEARL). Research conducted at the PEARL is designed to increase the understanding of coastal ecosystems so that they may be properly managed and protected.  PEARL uses an interdisciplinary approach, focusing our work predominately on the Chesapeake Bay and its tributaries, such as the Patuxent River. The mission of the PEARL is to provide society with the knowledge to solve its environmental challenges through research, education and economic development.
Aja is a project manager for the shellfish aquaculture program.  This program, starting in 2008, is focused on providing research and support to the local oyster aquaculture industry to help get more oysters in the water to help clean the Bay, and job creation.
This means, the program works with state agencies like the Department of Natural Resources, private industry, like the Southern Maryland Shellfish Growers Association, and scientists along the East Coast.  Aja coordinates and organizes the different parties to ensure efficient and seamless completion of research projects. This includes preparing reports, communications, scheduling and managing meetings.
The Shellfish Aquaculture Program consistently asks the industry, 'How Can We Help?'.  It is Aja's job to convey these responses and get the best people in the room to tackle the issues. Most importantly, she identifies key personnel and tasks to initiate projects designed to assist in job creation, build economic development and offer innovative solutions to assist the aquaculture industry in moving forward.
Aja was first introduced to STEM when she attended Baltimore Polytechnic High School, a very academically rigorous school and decided this is what I was meant to venture into. She then received her Bachelor of Science from the University of Maryland Eastern Shore with a concentration in Environmental Science in 2002. Immediately after graduation, Aja worked as a technician, maintaining and studying flatfish metamorphic developmental stages and translocation of the eyes and neurocranial changes during metamorphosis. Upon her departure from the five year Flatfish Research Program with Carnegie Institute, Aja attained a position, unrelated to her field of interests, as a Leasing Manager at a Property Management Company. However, despite that property management is not her passion, Aja thrived and became the first Leasing Manager to receive a PACE achievement award, the highest award any Leasing Professional can obtain. Aja then received her Master's in Science from University of Maryland University College with a concentration in Environmental Management in 2016. Although she was in school and worked full time, she managed a household and still raised two lovely daughters.
Throughout her academic career, Aja had diverse experiences: she interned at the Aquarium in Baltimore working with sharks and rays, spent a weekend on a llama farm and sailed on a research cruise, the Albatross from Woods Hole, Massachusetts to Cape Hatteras, North Carolina. She enjoyed these experiences which she believes shaped her into the woman she is today. Aja also had the privilege of speaking as a keynote speaker for the Living Classrooms event at the National Aquarium in Baltimore, 2001, and again today as a speaker for STEM-ING.
As an African American woman, Aja understands the importance of diversity in STEM, particularly the sciences, to support women and minorities. She encourages young women of all different backgrounds to pursue a career in the sciences. It was her early exposure to STEM that pushed her into the environmental sciences, and her love for communication and organization that allowed her to achieve all that she has. It makes Aja proud as a woman, to see other women excelling and making strides to close the gender gap in science and engineering.
Aja aspires to continue to work towards the efforts in bettering the environment with a concentration in encouraging and educating school-aged students to do the same. It is important to inspire the youth through consistency and dedication.
Aja enjoys spending her free time with her husband and two daughters (one who happens to love science), roller skating, reading and taking nature walks.

Emek Kose
Emek Kose was born and raised in Izmir, Turkey. Growing up, she thought she would be an astronaut, architect or an engineer, never imagining that she would one day be a university professor! Emek majored in mathematics at her undergraduate institution, Middle East Technical University (METU), in Ankara, Turkey. Upon graduation, she pursued a Master of Science degree in Science and Technology Policy. After a year and a half, however, Emek realized how much she loved doing math and decided to pursue her doctorate in applied mathematics. She started her graduate studies at Drexel University in 2003 under Dr. Ron Perline's guidance. In her graduate work, Emek studied the theory of designing mirrors for various applications such as robotics, surveillance and virtual reality.
While in graduate school, Emek served as a teaching assistant for various mathematics classes such as mathematical modeling, calculus, and linear algebra. Emek quickly discovered her passion for teaching and she excelled in the classroom, earning the Albert Herr Teaching Assistant Award in 2004 and the Drexel University Excellence in Teaching Award in 2005. Emek received her Master's in mathematics in 2005 and her doctorate in 2009.
Upon receiving her doctorate, Emek – and her beloved gray cat Bulut – headed west to sunny California to teach at Loyola Marymount University as a two-year Visiting Assistant Professor. In between teaching courses such as business calculus, multivariable calculus, and linear algebra, Emek continued her research into designing mirrors, focusing on designing a mirror capable of producing an ultra-wide field of view without distorting.
After her two years in California were finished in 2011, Emek accepted a tenure-track position at St. Mary's College of Maryland (SMCM) and headed back east. Bulut had grown used to the warm Los Angeles climate, and was "less than thrilled" about returning to a location that had a winter season, but she dutifully remained by Emek's side as they began their new life together. At SMCM, Emek continued to focus heavily on teaching and research, publishing – along with her graduate advisor Dr. Perline – her breakthrough paper "Double mirror catadioptric sensors with ultra-wide field of view" in 2014. Dr. Kose continued to excel in the classroom, earning the Homer Dodge Excellence in Teaching Award in 2015 – just a few short months before she married her husband Conrad, a librarian at SMCM. The following year, Emek was granted tenure and promoted to Associate Professor – just a few short months before giving birth to her daughter Olivia Reyhan Helms-Kose in June, 2016. Emek taught part time during the 2016-2017 school year and traveled with her family to Turkey to celebrate the new year with Olivia's great-grandmother and other extended family members.
These days – in between changing diapers and preventing Olivia from pulling on Bulut's tail – Emek continues to teach and pursue her research agenda, focusing on mathematical oncology – specifically, modeling immune system/tumor interactions and immunotherapy. She hopes to one day be able to pursue this research with an oncologist or immunologist. She is also laying the groundwork for SMCM to offer a major in applied mathematics, and reaching out to junior- and high-school students to encourage and inspire them to pursue mathematics.